There is no doubt that Virtuemart has been trying as much as possible to bring the best advantage including design more Virtuemart extensions to satisfy every minor customer's demand. Ajax Drop Down Cart is one of these benefit extensions from Virtuemart and agreat stride in drop down cart technology of ecommerce. Thanks to the easy installation with Joomlaversions VM 2.0.12 and Joomla 2.x.x, Ajax Drop Down Cart delivers the best pleasure in shopping activities comprise of features such as simple update product without loading page and change product quantity in cart, product images are previewed and supported by different styles and colors customization.
Let's look around and discover the powerful attraction of this product in the competitive market.
WooCommerce Ajax Drop Down Cart by Codecannyon
Even if you are a developer creating themes or you are just an owner of an ecommerce site using WooCommerce now you have the oportunity to offer an user friendly cart widget without much effort. NW AD Cart plugin let's you configure the Ajax Drop Down Cart to meet your theme design. Style your icons as you please by selecting the icons that you desire from the list of 10 available types of icons and choose the color that integrates well in your theme. Place the widget anywhere you want in your theme and you're good to go.
S5 Drop Down Cart by Shopper Frenzy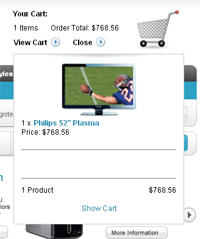 The S5 Drop Down Cart module is demo'd at the top of this page.
Give your customers an easy way to view their cart with less page load time. This module was first released under our popular eTensity template and is back and even better! We've added ajax functionality and several other features that will allow you to adapt this module to any Virtuemart site.
A list of features:
–      Updates with ajax functionality
–         Set the height, width and margins of the module
–         Customize backgrounds, font colors and sizes
–         Set your own button text and titles
–         Choose to open the cart automatically or disable
–         Choose to scroll the page on add or disable
Ajax dock Cart for Vitrtuemart by Offlajn
Speed up your webshop with AJAX technology! Your customers can have the possibility to add or remove products to the shopping cart, without waiting the page load each time, so only the cart content will refresh. Nowadays it's highly recommended for a customer oriented webshop.
Some features:
+ Great shopping experience
+ Fast and real interactions
+ Customer satisfaction
+ Increased sales in your webshop
+ Elegant look
+ Premium themes
+ SEO support
 Ajax Drop Down Cart by Cmsmart
Almost well known e-stores today have powerful drop down carts swiftly revealing the added – to cart products in an excellent dropdown list appearance. Ajax Dropdown Cart makes ecommerce website look tidy as well as competent, giving customer's pleasures when reviewing products that they have chosen in shopping activities. Ajax Dropdown Cart Virtuemart extension is easy for you to set it up like a regular Joomla installation. After you activate the module and include it in any chosen position in Joomla template (The top/header is recommended), it is ready to use the drop down cart.
Some outstanding features of Ajax Drop down cart.
–         Instantly update products into the cart
–         Immediately update total prices of the cart, working with Virtuemart calculation system.
–         Include custom field for each product
–         Update numbers of the products as well as price for more than one item
–         Shoppers can remove any products from the cart or preview details of the dropdown cart by clicking on the cart button
–         The collapsed line shows how many products are in the cart
–         The expanded line shows each products with its quantity, thumbnail, name and sub-totals.
Virtuemart extension is a great add – on module for your Virtuemart shop. It supports multi languages and no need to translate anything. Ajax drop down cart contains whichever currencies that your Virtuemart website uses. You just translate Virtuemart Component to the native language, apply the currency then everything will be automatically set in terms of Dropdown Cart Virtuemart extension. Under a reasonable price but excellent features of Ajax Drop Down Cart from CMSMART, we hope that you will gain the best benefit for your company by satisfying customers'demand every time they search and buy at your web shop. So, what are you waiting for? Let's contact us immediately to own an outstanding extension.